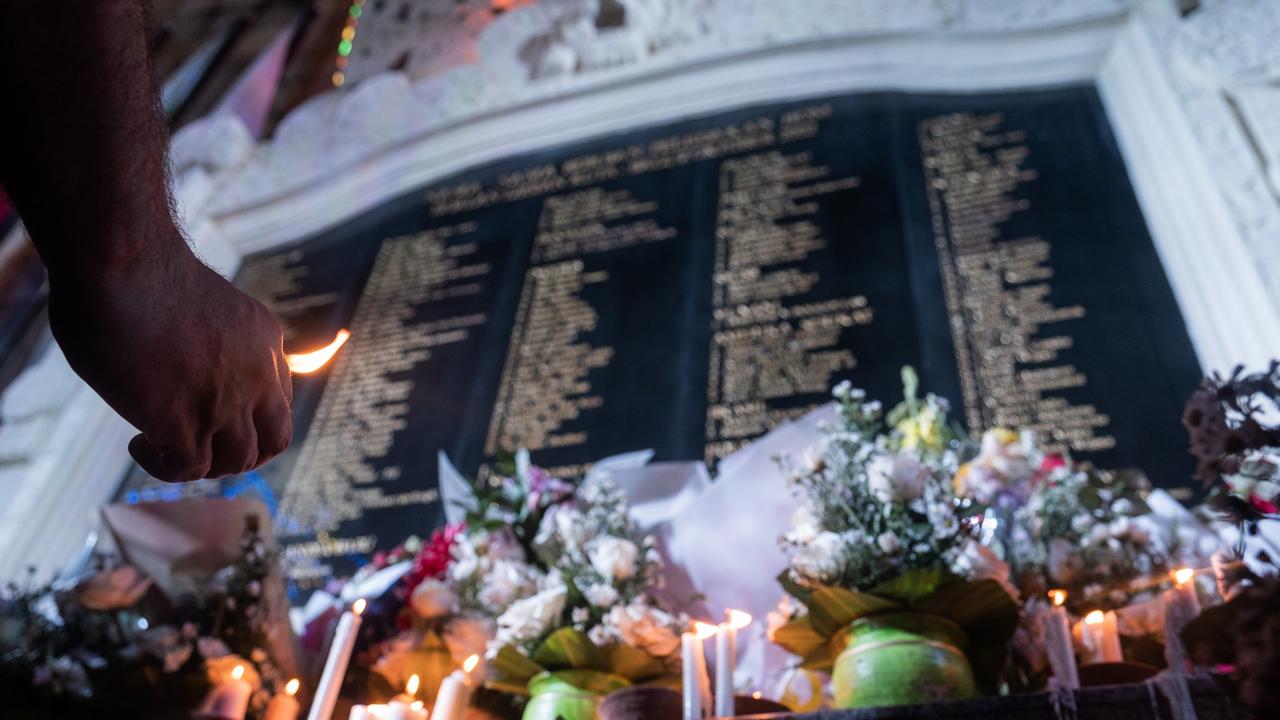 A man who lost five friends in a tragic Bali bombing has criticized his decision to show footage of the bombing and attack at a 20-year memorial service.
Jan Laczynski was at the site of the Kuta attack on Wednesday night ahead of a proper and sophisticated memorial service for the 202 people killed in 2002 suicide bombings, 88 of them Australians.
Instead, he got goosebumps when a video was played featuring Umar Patek, who was convicted of assembling the used explosive devices, other bombers and attacks.
Five of Laczynski's friends were killed at the Sari Club the night of the attack. He survived because he read the wrong ticket and left early.
He hasn't "slept" since a video was shown at a memorial service on Wednesday night.
In an interview with 2GB on Thursday, Laczynski told 2GB: "The moment of the terrorist attack in Bali 20 years ago, at 11:05 PM, I was expecting a minute of silence.
"But we had Umar Patek instead and he was there with a flag and a smile. You marched all the Bali bombers. A real bomb sequence happened on the screen."
Patek, who was sentenced to 20 years in prison in 2012, will soon be released from prison for "doing good."
Laczynski said the case should be about 202 people who lost their lives instead of showing "traumatic" scenes.
"I should have focused on them… It was meant to show real-world scenes where Umar Patek and other terrorists didn't march like heroes, but real bombs, fires and aftermath. I can't understand it," he told The Today Show on Thursday.
"Everything was perfect until 11pm last night when we decided to show the terrorists marching.
"It was traumatic just to watch it show people running out of the sari club with nonsense and burns.
"I didn't know this would happen."
Laczynski said he and others left the service because the footage was too contrasting.
"When I saw this happening, I actually walked into the Sari Club area just because I didn't want to see it," he said.
"I saw two girls and others running and crying. They saw it and wept. It was very shocking and meant nothing.
"Why are you doing this at 11 o'clock at night? Until the night exactly 20 years later?"
Laczynski said he didn't know who prepared the event or why they decided to show the video.
A spokeswoman for Australia's Ministry of Foreign Affairs and Trade said the government was "deeply disappointed" with the decision.
"The Australian Government's focus on the anniversary was to honor the lives of the victims and the courage and resilience shown by survivors and their families at weekly worship services and national events in Bali and Canberra," they said.
"The Australian government was not involved in organizing the evening event in Bali. We are deeply disappointed with the organizer's decision. We will formally register our concern with the Indonesian authorities.
"We understand the pain it has caused and are ready to provide assistance to any Australian who may need it."
Wednesday night worship was held at the Ground Zero Monument in Kuta and numerous events were held across Australia.
A service was held on Coogee Beach, Sydney, where Australian Prime Minister Anthony Albanese denounced the "designer of the slaughter" for organizing the terrorist attack.
Paul Yeo gave a speech at Coogee's Memorial, paying tribute to his brother Gerard, a member of the Coogee Dolphins rugby league club, who died along with five of his teammates that night.
Yeo said Gerard had recently moved from Dubbo in NSW to Coogee before traveling to Bali.
"We thought of a better way to bring young friends into the community. To play soccer," said Yeo.
Ms. Yeo recalled a moment in Bali where she called her father and said, "It's not good for my son to see."
"Silence followed, and he collapsed.
He decided not to attend the club's holiday Bali trip as his first child was due soon.
Dave Byron, who lost her 15-year-old daughter Chloe in a bombing, gave the closing speech.
"I woke up this morning and honestly felt like I was going to die," he said.
"I got in my car and drove around Bondi three times and stopped and saw all of you.
"And you are the ones who make my heart flutter."